"Wagyu" is a type of beef characterized by a delicate, rich flavor and prime quality that is the pride of Japan worldwide. There are many traditional Japanese dishes in which one can savor its wonderful taste to its fullest. These dishes bring out the depth of the taste of its superb quality, and display the dexterity of chefs who pay attention not only to the taste but also to seasonal touches and color tones. Japanese culture cherishes the natural beauty brought about by seasonal change and the attractiveness of each season, and places great emphasis on detail in order to create objects of matchless quality. Here, a chef who keeps traditional Japanese cuisine alive in Kyoto will introduce to you the essence of the culinary culture of Japan, fostered by way of a lifestyle replete with fine-tuned sensitivity.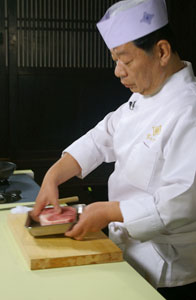 Recipe supervisor: Yoshihiro Murata
Mr. Murata was born in 1951 in Kyoto Prefecture, the oldest son of a family in charge of an exquisite Japanese restaurant with long history. While treasuring and handing down long-preserved traditions, he is willing to absorb new influences, such as French cooking techniques, and looks upon Kyoto-style cuisine and Japanese cuisine as a whole from a global point of view.